"CREATING" INSTEAD OF "BUYING".
WHAT'S REQUIRED IS
ONLY "DESIRE".




"TSUKURIBA", provides easy,
custom-made products
A simple way to create products via a
platform connecting craftsmen/workshops
with designers/producers
"TSUKURIBA" has realized a platform that connects workshops/craftsmen, who create handmade products all over Japan, with producers who have an abundance of experience with product design and brand development. This service can be utilized by individuals or by entities such as a company or a school; for making retail products, gifts for clients, commemorative items, novelty goods, or items created with a special sentiment. By combining the customer's idea with traditional Japanese techniques, you can create a fully tailor-made product.

"TSUKURIBA" provides comprehensive support from the initial proposal until the final product. It allows you to "create" a one of a kind item made with traditional craftsmanship, without the hassle of negotiations or coordination, just like you would "buy" one.

Instead of aiming to sell mass produced items in a large market, by networking craftsmen/workshops that can manufacture items on a small scale, we aim to meet the needs of small orders. It's a sustainable system that creates "the necessary amount of necessary items for people who want them".

By creating a system which enables many people to enjoy Japanese craftsmanship, we aim to energize the Japanese craftsmanship industry so that these world renowned techniques and culture can be handed down to the next generation.
Examples of our products
Fortune Cat

Decorative Plate (Hokusai's "Thirty-Six Views of Mt.Fuji")

Wooden Wine Glass

Hand Dyed Neckties/Pocket Squares

Indigo Bear
SERVICE DETAILS
TSUKURIBA's platform where "professionals give shape to ideas"
TSUKURIBA directly connects customers with the people involved in creating handcrafted products, without going through a middleman. This makes it possible to create a custom-made product at a fair price, not much higher than the general retail price.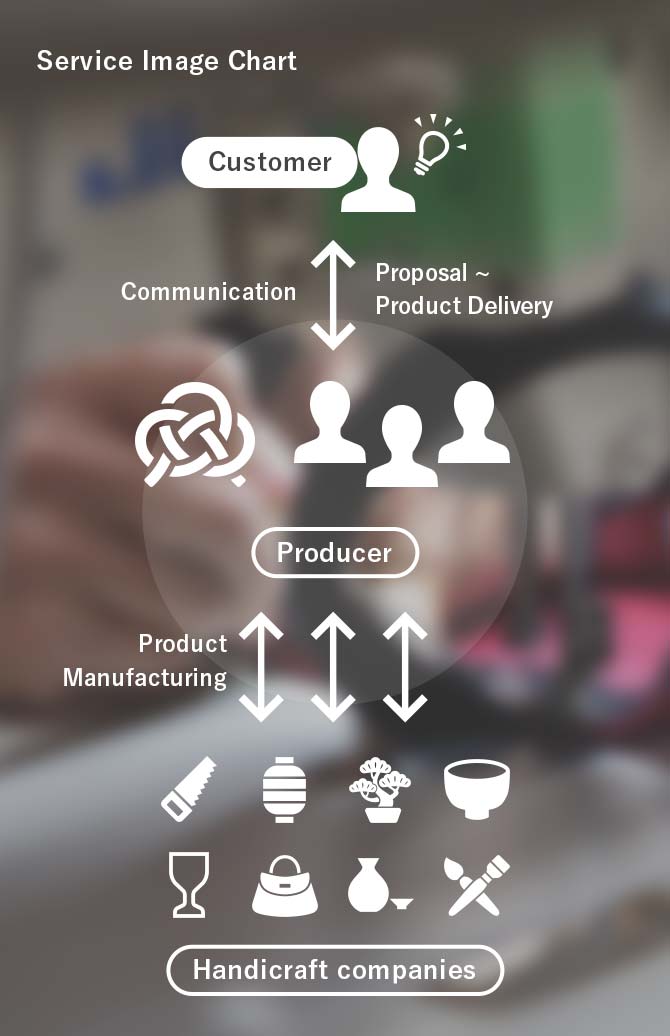 Examples of our Producers
These are producers and product designers who have experience establishing their own stores or brands. They are professionals that share the visions of "TSUKURIBA", who have an intimate knowledge of craftsmanship.
George Amano

CEO of George Creative Company, Director of Orange Co., Ltd.

Experience in producing merchandise and food shops, directing manufacturers and designers to develop trending products, business strategy promotion and marketing.

Keisuke Unosawa

CEO of Venus Spring Inc.

Specializes in all-inclusive creative services from concept proposal to product design. With a global perspective from working on projects such as MoMA's holiday card program or brand development for Virgin Atlantic Airways, he continues to expand his business both within Japan and abroad.

Satoshi Umeno

CEO of UMENODESIGN INC.

Producing and developing brands, for companies and regions, with an emphasis on product design, he also plays an active role in various fields such as interior design, fashion, web, graphic, and packaging. His works have been displayed in many overseas exhibitions and are sold worldwide.

Rika Yajima

CEO of Aeru Company

Established "aeru", a traditional craftsmanship brand that can be enjoyed from infancy, in 2012, and opened a store "aeru meguro" in Meguro, Tokyo in July 2014, and another store "aeru gojo" in Gojo, Kyoto in November 2015. The business is expanding into various areas in order to hand down Japanese traditional culture and the wisdom of the ancients to future generations.

Yang Hen Chen

Architect/Product Designer

Originally from Taiwan and a British national, he studied architecture in a Japanese university before joining Shin Takamatsu Architect and Associates Co., Ltd. Before returning to Japan and establishing his own business, he spent 11 years in England at Foster + Partners building up his career. As an architect and product designer, he has taken on a wide range of projects from space design to product design, utilizing traditional Japanese materials and techniques.
Examples of Artisans and
Workshops
This group of artisans from all over Japan have continued to produce high quality craftsmanship for generations. Their technique and artistic sensibility is highly regarded by even overseas luxury brands.

Indigo Dyeing (Tokushima Pref.) / Kimekomi Doll (Saitama Pref.) / Kyo ware・Kiyomizu ware (Kyoto Pref.) / Sashiko weave (Aichi Pref.) / Kasama ware (Ibaraki Pref.) / Yamanaka lacquerware・Woodworkers (Ishikawa Pref.) / Glass products (Gunma Pref.) / Tokyo Fine-Patterned Dyeing (Tokyo) / Tokyo Kumihimo Braid (Tokyo) / Wajima lacquerware (Ishikawa)
TSUKURIBA's Service Flow Chart
We provide comprehensive support from the start of the project till the manufacturing of the finished product. Customers do not have to deal with any of the coordination or negotiations. Even ideas that are still vague can be given shape by the handicraft professionals who are there to listen to your needs. Please feel free to contact us.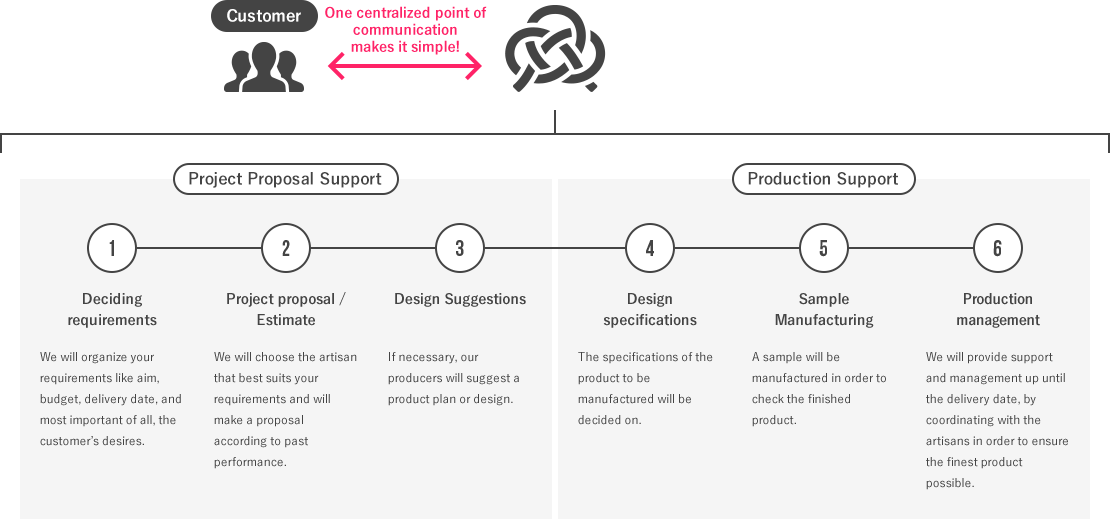 Complete with a message from the creator
You can inscribe a special card or bookmark to put in with the product, to convey the sentiments put into the product or the story of how the product came to be.
Service Vision
"Handing down the power of Japanese traditional craftsmanship to the next generation"

In supporting regional handicraft businesses, we have witnessed many of them disappear due to the problem of aging artisans without successors, even though their exceptional skills can be boasted worldwide. Japanese traditional materials, techniques, designs (aesthetics) attract much attention from abroad. However, this craftwork has nowadays become somewhat distant for people within Japan. "We would like more people to enjoy Japanese traditional craftsmanship and culture. We would like to create a system where more people can become involved in the world of craftsmanship. By doing so, we would like to revitalize Japanese craftsmanship and ensure that these world-class traditional techniques and cultures are passed onto future generations."

"TSUKURIBA" was established with this hope.

"TSUKURIBA" is creating a new set of values as a "platform" where "customers (people with a vision)", "producers", and all people involved in creating handicrafts can come together in an unconstrained and enjoyable atmosphere.
A BUSINESS OPERATION AIMED
TOWARDS MEETING SDGS
"TSUKURIBA" supports sustainable craftsmanship. Our business operation contributes towards meeting 4 SDGs (Sustainable Development Goals).

Handicrafts made by artisans/workshops are carefully creating using limited resources like natural materials or the geographical features of the region. They are also laboriously made by hand to last a long time, thus preventing unnecessary disposal.

"TSUKURIBA" connects these artisans/workshops that support Japan's handicraft industry in a network, and by reevaluating the needs within the country, we aim towards creating a sustainable system which breaks away from the cycle of mass production.
ABOUT LIVES CO., LTD.
Message from CEO Takashi Seike
From the establishment of this company, we have continuously supported businesses in the handicraft industry. We've seen businesses with world-class skills go out of business because of problems like the aging of their artisans and a lack of successors.

The world has great interest in traditional Japanese materials, techniques, and designs (aesthetics). However, within Japan, these things have become a little bit distant and not easily integrated into everyday life.

We hope to bring people closer to the world of handicrafts and rejuvenate the industry all across Japan. This was our aim in establishing "TSUKURIBA". We'd like to open up the industry of
traditional craftsmanship, which can seem to be secluded and have a high threshold, so that it can become a place of "discovery" where people can enjoy themselves.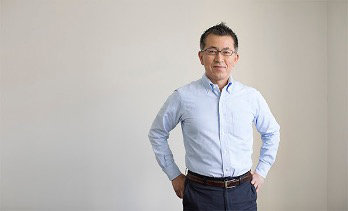 Corporate Info
Company name
Lives Co., Ltd.
Founded
Sep. 24, 2003
Management
CEO Takashi Seike
Address
Fujikikai Hiroo Bldg. 5F, 1-13-1 Hiroo, Shibuya-ku, Tokyo
Our Services
Regional Resource Development & Marketing,
Health & Beauty Business, Life Solutions Business